Changing the Look of Your Kitchen With Professional Cabinet Refinishing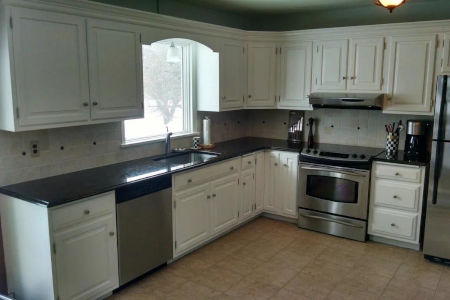 At Elkins Painting & Wallpapering, we're familiar with what a drastic difference the look of your cabinetry can make. It's why we're proud to be able to offer cabinet refinishing for our local Mountain Lakes customers.
There's no denying the fact that the cabinets in your kitchen are a focal point. So, if you're remodeling your kitchen, you have to decide if you want new cabinets or to spruce up the existing ones.
In fact, changing the look of your cabinets can give the impression that you've renovated this room, without the expense and hassle of full-scale renovations. We're more than just the local expert painting contractor; we're a top resource for cabinet refinishing, too.
Replace or Refinishing: What to do With Your Cabinets
It's easy to think that all new cabinetry is the best approach to take when it comes to renovating your kitchen or bathroom. Did you know that new cabinets can consume up to 40% of your remodeling budget?
Add to that, new appliances, interior painting, countertops, new flooring, and it's easy to end up way over budget. It's safe to say that cabinet refinishing is a cost-effective alternate solution; however, the good news is that there are plenty of benefits aside from saving money.
Timesaving
Eco-Friendly
Lots of Options
Increase Home Value
Easier
Ripping out cabinets that are still otherwise usable eats up a lot of time that will cause your remodeling project to take longer. Not to mention, there's no sense adding perfectly good cabinets to an already overflowing landfill.
The ideal approach to take is to let us redo the cabinets that already exist and show you how old cabinets can look modern once again.
Take a New Look at Your Old Cabinets
Even if you have a generous budget for your kitchen renovation project, do you really need new cabinets? Think about how much you could save by fixing what you already have, and then spending the money on other aspects of your kitchen.
At Elkins Painting & Wallpapering, we're always in favor of saving our customers money. Plus, we like to do what's right for the environment, as well.
It's a win-win situation because you don't have to sacrifice a new look for your kitchen and cabinets. We'll show you a variety of finishes you have to choose from.
You'll also pick new hardware so that your new cabinets are unrecognizable from the previous appearance. Get in touch with our team today and schedule your service for expert cabinet refinishing in Mountain Lakes.
---
Latest Projects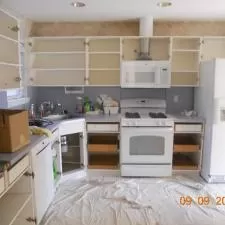 Refinishing Kitchen Cabinets & Epoxy Floor Coating on Garage Floor in Parsippany, NJ
Sand and clean all kitchen cabinet doors, frames, and drawers. Application of two coats of an acrylic latex semi-gloss paint to all cabinet surfaces. […]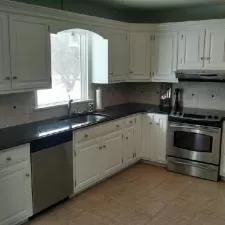 Refinishing & Painting of Kitchen Cabinets on Cheryl Ave in Montville, NJ
All stained kitchen cabinets woodwork, frames, doors, and drawers were primed. Application of two coats of an acrylic latex semi-gloss Sherwin Williams paint to entire kitchen cabinets frame, doors, […]