Professional Deck Restoration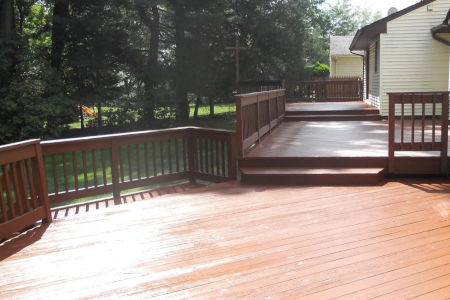 Elkins Painting & Wallpapering has earned a flawless restoration as a professional painting contractor, and that includes deck restoration work. Almost every Montville homeowner with an outdoor living space has been guilty of neglect.
The problem is that the longer you fail to take good care of your deck, the less likely you are to end up using it. What' s the point of having a deck if you can't even put it to good use?
Maintaining your deck throughout the years is the best way to keep it in usable condition. However, at some point, the only logical approach is to schedule a full deck restoration service. If you're ready to revitalize your deck to good-as-new condition, now is the time, and we are the team!
Understanding the Benefits of Deck Restoration
Homeowners in Montville love having a deck. It's the ideal setting for hosting social gatherings, making memories with the family, or just catching some much-needed solo downtime. Unfortunately, if you've been neglecting your outdoor living space, you're likely to have very different feelings about it.
Without proper care, your deck can become an eyesore and something you'd rather not think about. Ignore the need for maintenance, and your deck will look bad and possibly become a dangerous hazard.
Your deck can develop slippery algae and severe splinters, both of which are detrimental to foot traffic. Although regular pressure washing is a valuable method for deck maintenance, at some point deck restoration will be the better option.
If you're considering this service, be aware of some of the benefits:
Improved Appearance
Overall Enhanced Curb Appeal
Safe Surfaces for Bare Feet
Prolong the Lifespan
Reduce the Maintenance and Repairs
Protecting Your Deck
No matter how high-quality the materials are or how skilled the experts were who installed your decking, time is going to take a toll. Harsh sunlight, extreme weather conditions, the freeze-thaw cycle, and everyday wear and tear will age your decking.
The good news is that our team of experts is here to reverse the effects of aging. Without upkeep and periodic restoration, you'll end up watching your outdoor living space deteriorate.
Keep in mind, the exterior of your house is only as pretty as the most unsightly feature.
You can have a whole new exterior painting job done, but your rotting deck will be the focal point.
Elkins Painting & Wallpapering is here to help improve, restore, and preserve your deck. Give us a call in Montville today to schedule your service for deck restoration and preservation.
---
Latest Projects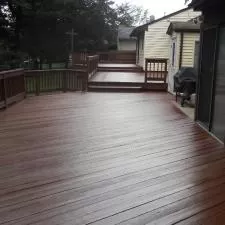 Deck Staining on South Rockaway Dr in East Hanover, NJ
Power washed the deck then applied one coat of Cabots oil stain in all deck flooring, railings and spindles. Exterior painting and interior painting are about bringing your vision to fruition. He […]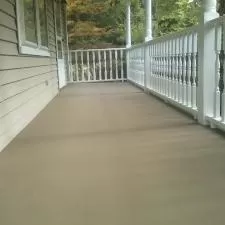 Deck - Porch Staining & Power Wash on Oak Ave in Boonton, NJ
Power washed deck/porch. Sand deck/porch down to bare wood. Smooth deck/ porch flooring with 60/80 (sand […]