Local Wallpapering Experts
Hanging new wallpaper for your home or business can bring new ideas for exciting patterns, textures, and style to your space. This is why Elkins Painting & Wallpapering offers expert wallpapering services.
With more options than just a simple coat of paint, you can really showcase your personality with our new wallpapering installations. Contact Elkins Painting & Wallpapering today at 973-316-4900 to get started on your next wallpapering project in Whippany!
You'll be surprised to learn we're more than just a preferred local painting contractor - we're also wallpaper experts. The work we do is meant to beautify and improve your home but, most of all, help you maximize your enjoyment with it.
Wallpaper or Paint - Which is Right for You?
The great thing about trying to decide between wallpaper or paint for the interior of your home is that you don't have to make a choice - you can have both. Each room in your home can have a unique look, and we're here to make that possible for you.
Some rooms need wallpapering while others should have interior painting, and we'll take care of both. Reasons that wallpaper can be the ideal wallcovering for some of your rooms are things like:
Introduce Patterns
Hide Blemishes
Can Last Over a Decade
Beautiful Effects Like Raised Inks
Can be Used for Focal Wall Only
In many cases, it's the ideal technique and material to use to heighten the depth of a room design or increase the elegance. Even though the paint has come a long way and you can do more with it than ever before, it will never be able to do as much as wallpaper.
Of course, the beautiful outcome of the project all depends on the skill of who's hanging it. Call us today and ensure that you get the most professional outcome for your wallpaper hanging.
Rely on Our Wallpapering Pros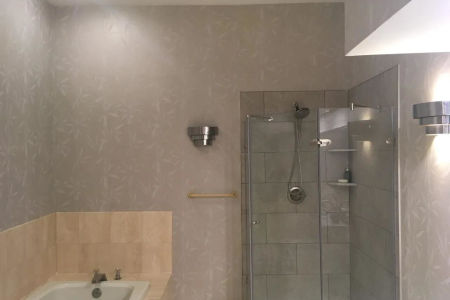 Creating the perfect look for each room of your Whippany house is no easy task. Of course, it's much simpler when you have reliable pros to work with for the painting and wallpapering.
We'll do more than cover your walls; we'll help you make good choices about how to cover those walls. Contact our team today and get started with your free quote.
We promise to go above and beyond to help you create your ideal interior design aesthetics. We're honored to be able to help so many locals put the final touches on their dream home.
---
Latest Projects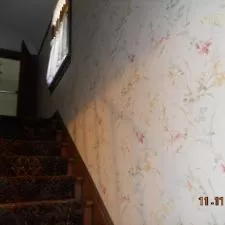 Residential Wallpapering Installation on Holly Ln in Boonton, NJ
Wallpapering installation in Living room, kitchen, family room, upstairs hallway and various areas. Exterior painting and interior painting are about bringing your vision to fruition. Here at Elk […]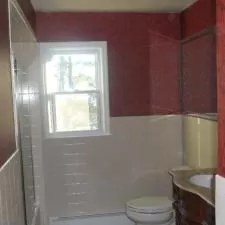 Wallpapering Installation on Holly Ln in Boonton, NJ
Installation of wallpapering in the master bathroom and faux finish in the powder room. Painted ceilings and trim. Exterior painting and interior painting are about bringing your vision to fruiti […]