Superior Exterior Cleaning From Pressure Washing Pros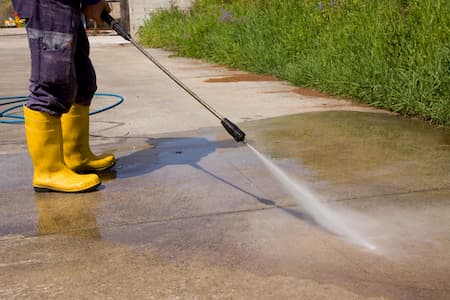 Pressure washing isn't something that you should forget to schedule. It's not a service that you should consider optional or wait too long to make an appointment.
Yet, each year, that's exactly what local Boonton homeowners do. Or, they rent power washing equipment from a home improvement store to DIY the job.
Elkins Painting & Wallpapering is here to help you not only keep your exterior clean but avoid the injury or property damage that can result from trying to do the work yourself. Whether you're planning on house painting, need to get the deck ready for summer, or just want to improve the curb appeal, pressure washing will do the trick.
We're proud to offer this service as a leading painting contractor because it's vital in preparation for exterior painting. However, it's an essential service for beautifying and protecting your exterior every few years - even without plans to paint.
Reasons to Avoid DIY Power Washing
As critical as pressure washing is for the outside of your home or business, making this a do-it-yourself job isn't the best approach. Even though you've probably heard otherwise, keep in mind some of the good reasons you should leave the house washing to the experts:
Training and Experience
Superior Equipment
License and Insurance
Prevent Personal Injury
Avoid Property Damage
Exceptional Results
For starters, the equipment you rent usually isn't powerful enough to take care of the level of deep cleaning you want. However, even if you end up buying the power washing tools that are industry-grade, you don't have the training or experience to use it.
The type of washer that can be used on a driveway to remove oil isn't a toy. Not to mention, it's not worth the risk for the minimal amount of financial savings you'll see by doing your own house washing.
The Many Benefits of Pressure Washing
Both your home and commercial facility will benefit significantly from regular pressure washing. For instance, you'll make a good first impression.
For a homeowner, that means pride of ownership but for a business that can mean greater revenue. Some other advantages you can expect by staying current with professional power washing include:
Maintain or Increase Your Property Value
Prevent Repairs
Promote Better Health
Prolong the Lifespan of Siding, etc.
Eradicate Graffiti
It's a good idea to work with a professional for this service because we're also able to transition from concrete to windows to roofing without causing damage. Our cleaning work is safe but effective.
Get in touch with us today to get the quality pressure washing service that you deserve for your Boonton home.
---
Latest Projects
Residential Exterior Painting on North Rd in Chester, NJ
Power wash the complete exterior of the home. Scrape and power sand all exterior surfaces as needed. […]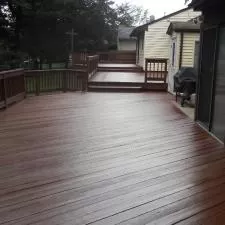 Deck Staining on South Rockaway Dr in East Hanover, NJ
Power washed the deck then applied one coat of Cabots oil stain in all deck flooring, railings and spindles. Exterior painting and interior painting are about bringing your vision to fruition. He […]