Local Exterior Painting: Professional House Painting to Improve Your Curb Appeal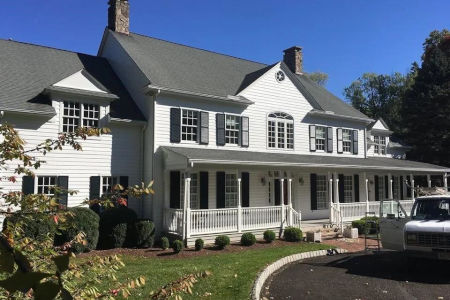 At Elkins Painting & Wallpapering, we want our customers to have all the information they need before their exterior painting project begins. When painting the exterior of a Mountain Lakes home, it's imperative to follow specific steps for the best results that will last for years.
By following these steps, you will know what to expect during the exterior painting process. The trusted and time-honored method we use is what has helped make us a leading painting contractor.
Exterior painting is an essential part of home improvement and enhancing curb appeal. Yet, at the end of the day, what matters the most is that you feel good about the way your home sweet home looks and feels.
Creating the Home of Your Dreams
Exterior painting and interior painting are about bringing your vision to fruition. Here at Elkins Painting & Wallpapering, we're proud to be a part of making that happen for so many Mountain Lakes homeowners.
However, the job is more than just paint application, and we're able to provide you with:
Refinishing of aluminum and vinyl siding.
Historical Home painting
Cedar home restoration & staining & painting
Power washing/ Deck sealing and staining
Pool Painting
Light carpentry
Picking Your Perfect Color
Is it time to repaint the exterior of your home? Hiring a painting professional will make the entire process so much easier.
From prep-work to painting to the final cleanup, the professionals at Elkins Painting & Wallpapering will work with you. The only part of the process you may not find to be easy will be the color selection.
When picking a color for the outside of your home, an important consideration should be the life of your paint. The darker the color, the more UV rays that will get absorbed, and the quicker the paint will fade.
Therefore, you don't very often see houses painted in dark browns, blues, or blacks. Lighter paint colors will last longer on the exterior of your house.
It's essential for house paint to withstand the elements. To create a durable paint surface, you need to follow all these steps precisely.
Don't worry; we're here to offer expert advice about your paint colors too because we want you to be satisfied with the outcome of the job. Let our professional painters take on your next exterior painting project to ensure your home has a beautiful, durable surface that will last for years to come.
Call us today to schedule your free estimate for your Mountain Lakes exterior painting project at 973-316-4900.
---
Latest Projects
Residential Exterior Painting on North Rd in Chester, NJ
Power wash the complete exterior of the home. Scrape and power sand all exterior surfaces as needed. […]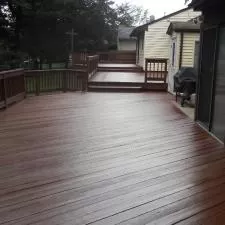 Deck Staining on South Rockaway Dr in East Hanover, NJ
Power washed the deck then applied one coat of Cabots oil stain in all deck flooring, railings and spindles. Exterior painting and interior painting are about bringing your vision to fruition. He […]