Elkins Painting & Wallpapering: Mountain Lakes' Premier Painting Contractor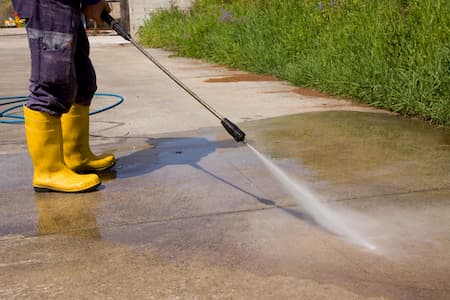 When you think of a Mountain Lakes painting contractor, we want you to think of our team here at Elkins Painting & Wallpapering. We've dedicated over two decades to the industry and are proud to be a top choice in the area.
We look forward to working with you for your home or your business because we offer both residential and commercial painting services. It all starts with our free quote, which you can call to request immediately.
Imagine how beautiful your home would like with an all-new exterior paint job. Or think of the business you'd attract by freshening up the look of the outside of your commercial facility.
If you're ready to make a change to your property in the Mountain Lakes area, we're the team to trust. Contact us today, and let's start making plans for your painting, deck restoration, pressure washing, or similar tasks.
How House Painting Helps Your Investment
Although Mountain Lakes homeowners rarely refer to their personal residential living space as an investment, it is. Sure, it's the space you turn into your home sweet home and make memories with your family, but it's still an investment.
As with any investment, you want to be able to take care of it and make improvements that will increase the value. One method you can use to accomplish that is exterior painting - from a professional, of course.
Benefits of hiring an industry expert and painting your house are things like:
Greater Curb Appeal
Protect Your Siding
Personalize the Look
Create Cohesiveness with Surroundings
Find & Make Repairs
Of course, last but not least, as previously mentioned, you'll increase the worth of your home and earn a decent Return on Investment. That means for the expense of even a high-quality paint job, and you'll see a better return for the work you have done.
Why Choose Elkins Painting & Wallpapering
The critical thing to know is that you should choose a professional contractor for your home based on value, and that's not the same as a cheap quote. Good value means high-quality results for a price that's reasonable and reflects the amount of work being done.
Cheap means, well, cheap, and that you get what you pay for.
Low quotes mean the contractor doesn't feel their work is worth more.
It can also mean they don't have the experience to price their work.
It can come with surprises at the end of the job.
Basics like cleanup may not be included.
Or you end up with inferior paint and shoddy work.
Whatever the case may be, it's not worth the risk. We promise superior work and materials for a more than reasonable price. Call us now and get the service that you need from a Mountain Lakes painting contractor.
---
Latest Projects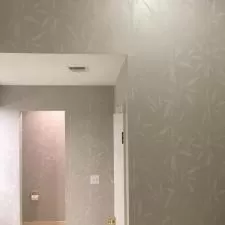 Removal and installation of wallpapering on Ball Rd in Mountain Lakes, NJ
Removal of existing wallcovering, prime and prep walls for new Installation of Nonwoven wallcovering paper in the master bathroom, paint ceiling walls, and trim with Sherwin Williams paint. Exter […]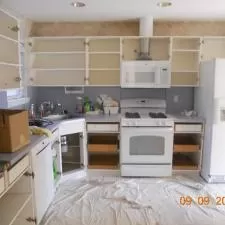 Refinishing Kitchen Cabinets & Epoxy Floor Coating on Garage Floor in Parsippany, NJ
Sand and clean all kitchen cabinet doors, frames, and drawers. Application of two coats of an acrylic latex semi-gloss paint to all cabinet surfaces. […]